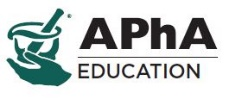 APhA Pharmacy-Based Immunization Delivery Certificate Training Program- January 29th
APhA's Pharmacy-Based Immunization Delivery certificate training program is based on national educational standards for immunization training from the Centers for Disease Control and Prevention.  This practice-based curriculum represents a fusion of science and clinical pharmacy. The program, which emphasizes a health care team approach, seeks to foster the implementation of interventions that will promote disease prevention and public health.  The purpose of this certificate training program is to prepare pharmacists with comprehensive knowledge, skills, and resources necessary to provide immunization services to patients across the life span.
 This certificate training program is made up of two components – the 12hr self-study and the 8hr live training.  The pre-course work is required before the live training date which will be held via Zoom on January 29, 2021.  Please read through the instructions within this course.  All of the home study coursework will be completed through the APhA site linked within the included instructions.  The link to the Zoom webinar will be included within the course and also emailed to you. 
The skills component of this course can be facilitated through Zoom with an APhA trainer or by an HSOP approved provider that is currently certified to provide immunizations. 
Please email hsopce@auburn.edu with any questions.
All APhA certificate programs are required to have a minimum enrollment and AUHSOP reserves the right to reschedule APhA certificate programs that do not meet this enrollment size.
For a complete list of learning objectives for the self-study and live seminar, please visit APhA's website, https://www.pharmacist.com/pharmacy-based-immunization-delivery
Learning Objectives
The goals of this program are to:
Educate pharmacists about:
The impact of vaccines on public health.

Pharmacists' roles in immunization.

Immunologic principles of vaccine development and immunizations.

Vaccine-preventable diseases and the vaccines used to prevent them.

Strategies for improving immunization rates.

Requirements for pharmacists who provide immunization services.
Prepare pharmacists to:
Read an immunization schedule and identify appropriate vaccines for individuals across the life span and with special needs.

Educate patients about the benefits of vaccines and dispel myths about vaccines.

Safely administer vaccines to patients via subcutaneous, intramuscular, intranasal, and intradermal routes.

Operate an immunization service in compliance with legal and regulatory standards.

Partner with immunization stakeholders to promote immunizations and the immunization neighborhood.
Direct pharmacists to resources necessary to:
Promote public health through immunizations.

Access regularly updated information about vaccines and their use.

Effectively communicate with patients and other stakeholders about resources.

Operate an immunization service in compliance with legal and regulatory standards.
Accreditation Information
The American Pharmacists Association is accredited by the Accreditation Council for Pharmacy Education as a provider of continuing pharmacy education. The home-study portion of the Pharmacy-Based Immunization Delivery certificate training program is approved for 12 contact hours (1.2 CEUs) of continuing pharmacy education credit (UAN  0202-9999-20-179-H06-P). The live training seminar is approved for 8 contact hours (0.8 CEU) of continuing pharmacy education credit (UAN 0202-9999-20-180-L06-P).
Initial Release Date: March 30, 2020
Expiration date: December 31, 2023 - PLEASE NOTE:  NO Home Study credit granted after this date; Live Credit can only be granted within 60 days from the day of the seminar attended.
Activity Completion Requirements
To obtain credit for "Pharmacy-Based Immunization Delivery" complete home study activities, complete both home study and final assessments with a grade of 70% or better, attend the live seminar, successfully complete the injection technique assessment, complete the evaluation, and CLAIM credit. To obtain credit, the Learner must CLAIM credit once each component is completed. Once credit is claimed, Transcripts of CPE will be available online within 24 hours on the Learner's CPE Monitor profile.  The Certificate of Achievement will be available online upon successful completion of the necessary activity requirements on the participant's "My Training" page on www.pharmacist.com.
Pharmacy-Based Immunization Delivery: A Certificate Training Program for Pharmacists was developed by the American Pharmacists Association. © 2017 by the American Pharmacists Association.
Technology Requirements  -  Computer and Internet access is required to complete this activity.  Please visit APhA's website to view the Technology System Requirements to have a positive learning experience.